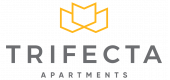 Your Review
Submit a Review

Resident Reviews
|Recommended: YesNice — It's nice living here. The gates are always kept closed and if it's broken, they'll fix it. The noise level here isn't the best, but it doesn't bother me as much as it would someone else. Overall, I'd recommend living here. The maintenance staff is awesome and I appreciate them
|Recommended: YesThe Best Place I've Lived — I love Trifecta I moved from out of state and feel right at home. The community is so open and welcoming plus the Leasing Office staff is so kind and helpful. The architecture and construction is phenomenal and the amenities are spectacular. 10 10 would recommend to a friend
|Recommended: YesOrganized and good price — It's honestly amazing
|Recommended: YesGreat Place to Stay while in College — The rooms are nice, the staff is very helpful and kind, and parking is extremely convenient.
|Recommended: YesIt's nice and has a lot of space — Comfortable, spacious and convenient
|Recommended: YesWonderful apartments but occasional loud neighbors and obnoxious college kids for a working man — The apartments are beautiful and fantastic. Notices to vacate some after only 7 days, which is a little extreme. College kids can be rowdy, loud, and obnoxious especially if there's one living above you making noise all hours of the night when you have to work the next say. But it's a great place to be single young professional. Just wish i wouldn't hear so much discrimination about Appalachian folks suck as myself. But I am happy with the nice apartment with newer appliances.
|Recommended: YesSo close to campus — Trifecta is such a great place to live The location is great
|Recommended: YesPretty cool staff that will help you with whatever comes to mind and plenty of room for your pets to play around on.
|Recommended: YesGreat Apartment Complex — Living here is better than I expected. There's no real negatives about the Trifecta in my opinion. I love the set up of my apartments and the easy access to and from anywhere within the building.
|Recommended: YesTrifecta Apartments — I really think it is a great place to live. Friendly staff, nice units, and really convenient place to live if you go to nearby colleges.
|Recommended: YesIt is a pretty nice place with a gated community. A little expensive, but there are a lot of amenities that make it worth it
|Recommended: YesTrifecta for the win — Trifecta apartments has been my favorite student living in Louisville. The staff is incredibly kind and the facilities are always clean. Definitely consider living here if moving to U of L. Extremely close to the grocery store and campus.
|Recommended: YesParking is such a big thing for me Trifecta's parking garage and parking spots are a dream — the parking garage is great for times like winter where we are getting up to 3 inches of snow it's nice that i don't have to worry about waking up early to clean my car off before i leave. Also when it rains it's a great way for car protection.
|Recommended: YesGreat apartment complex, swift maintenance times, knowledgeable staff, safe community — Trifecta is a great apartment complex to live in Maintenance requests are fulfilled in a timely manner, parking is great, and staff are always willing to help. Not to mention, facilities are open 24 7.