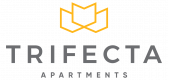 Your Review
Submit a Review

Resident Reviews
|Recommended: YesI enjoy it a lot — Not a bad place to live, you can hear your neighbors extremely too well for comfort though.
|Recommended: YesGreat Place to Live — You can hear your neighbors more than you should, but Trifecta has everything you need.
|Recommended: Yes
It's the best — I well tell them it's the best apartment .I am so proud
Thank you so much Frewoini! That truly means the world to our staff!! - Trifecta Management
|Recommended: Yes
It's cool — it's cool
We think you're pretty cool too! Thanks for the 4 stars!! - Trifecta Management
|Recommended: Yes
I think it's been the best I've stayed at so far — Trifecta is the perfect spot because it's a great distance from everything. It is quiet. Like the most you will hear anyone is in the hallway but not in the apartments. I personally will be enjoying my stay for now
We appreciate the feedback! Thank you for choosing Trifecta and the 5 stars!! - Trifecta Management
|Recommended: Yes
My first month — I came from the Clubhouse apartments which were awful and I love it here. 100 WOULD RECOMMEND IT FOR ANYONE
We're so happy to hear that you love living Trifecta! Appreciate the 5 stars too!! - Trifecta Managment
|Recommended: Yes
Needs some help — First things first - VISIT the complex to see if you even like it, do not go off of reviews. - Talk ONLY with the leasing manager. She is nice, helpful, and knowledgeable. - Talk ONLY with the leasing manager about what rooms are available and all other aspects because the student staff only look at the website which is never accurate so there will be a lot of misinformation. Noise is okay what you'd expect in an apartment with up to four bedrooms. Not to loud and really only hear people if they are being loud which isn t too bad. Cleanliness needs some desperate help. The hallways always smells disgusting, the floors are filthy with some type of black tar that's hard to get off and sticky, bugs come easy out of all cracks and crevices, they cleaned the apartment before I got here but it was absolutely disgusting when I arrived. The floor turned my socks black and needed to be mopped several times before it was really clean. There was an excessive amount of hair left in my shower drain that caused the water to build up during a shower. The water pressure is good and the water stays hot, even with a bath following a shower. The oven is not cleaned before you arrive. MAKE SURE TO CHECK THAT YOUR WINDOWS ARE LOCKED IF ON THE FIRST FLOOR. Mine were unlocked when I arrived. The landscaping and grass is mostly dead and could desperately use a sprinkler or two and some fertilizer. Especially with the number of dogs that live here too. The gym is small but clean and open. Parking is easily accessible and can most likly get on your floor depending on your schedule. The main south gate stays open waaayyyy to long to the point that 7 cars could pull in at the same time before it closes. Often times it gets stuck open. The security lights on the building only flicker, they don't stay on. Overall the apartment is well worth the price compared to others and close to campus. The bridge to campus is a really nice plus. However, I do think this apartment complex could use some TLC. Desperately.
Thank you for taking the time to leave such a detailed review Megan! We agree, Chelsea is great! Our leasing staff is provided daily updates of room availability and do not go off the website. When you signed your lease in September 2021 this was after our mass move-in day with very limited and ever changing availability due to leases being signed, as our availability is first to lease first to lock in for their preferred floor plan. We know that you had originally leased in our A1 floor plan and upgraded to our A4 floor plan because you wanted a bigger unit. We're surprised to learn that your unit was in disrepair upon move-in as you and your mom personally thanked Chelsea and said everything was great! We do apologize that you experienced a clogged drain upon your arrival, we do work diligently with our maintenance team to ensure that rooms are ready for our new arriving residents. The unit to include the floor was cleaned by our preferred cleaning vendor, we will follow up with them on ways to ensure cleanliness of our vinyl floors after cleaning. We don't walk around in socks after cleaning so if it looks clean visually we would assume that it is clean :) Management will work to determine an improved process for this! In regards to the south gate staying open for 7 vehicles to enter, the gate has sensors that it knows when their are vehicles awaiting entry and it will not close until that sensor is turned off, allowing the cars to enter. An additional safety feature is that the gate stays open for 15 seconds at each sensor trip to ensure that the gate does not close on any vehicle, which could cause substantial damages. With landscaping that is always a battle to keep the grass green and lush throughout the year as it is effected by variables such as weather and pets. We have irrigation throughout the exterior of the community as well as fertilize in the spring and fall. Thank you for choosing Trifecta to call home, we enjoy having you here! - Trifecta Management
|Recommended: Yes
Great property but needs elevator — It's good but no elevator
Thank you for taking to leave us a review Norman! Trifecta has 3 elevators; one in the parking garage that connects to building 5, one in the building 7 by the trash chute and one in the pedestrian bridge tower. If you would like a community map please stop by the office to pick one up. - Trifecta Management
|Recommended: Yes
It's scenic and got pretty flowers — It's nice, I honestly have no complaints, parking is usually pretty open
Thanks for sharing your experience and for the 5 stars!! - Trifecta Management
|Recommended: Yes
From 1 to 10 I'd give it an 8 — It's nice and smart
Thanks for taking the time to leave us your feedback and the 5 stars!! - Trifecta Management
|Recommended: Yes
Over all quite a nice place. — I would tell them that the apartment is very accommodating and reasonable in price.
Thanks Shiloh for providing feedback and the 5 stars!! - Trifecta Management
|Recommended: Yes
Trifecta Review — The place is great
We love that you love it Ryan! Thanks for the 4 stars!! - Trifecta Management
|Recommended: Yes
Great place — It's a great environment sometimes you can hear your neighbors but overall a great place to live
Thank you for sharing your feedback and giving us 5 stars!! - Trifecta Management
|Recommended: Yes
Review — Close to UofL, Easy parking, Nice staff
Thank you for sharing your feedback and the 5 stars!! - Trifecta Management