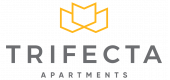 Your Review
Submit a Review

Resident Reviews
|Recommended: YesTrifecta Apartments — I really think it is a great place to live. Friendly staff, nice units, and really convenient place to live if you go to nearby colleges.
|Recommended: YesIt is a pretty nice place with a gated community. A little expensive, but there are a lot of amenities that make it worth it
|Recommended: YesTrifecta for the win — Trifecta apartments has been my favorite student living in Louisville. The staff is incredibly kind and the facilities are always clean. Definitely consider living here if moving to U of L. Extremely close to the grocery store and campus.
|Recommended: YesParking is such a big thing for me Trifecta's parking garage and parking spots are a dream — the parking garage is great for times like winter where we are getting up to 3 inches of snow it's nice that i don't have to worry about waking up early to clean my car off before i leave. Also when it rains it's a great way for car protection.
|Recommended: YesGreat apartment complex, swift maintenance times, knowledgeable staff, safe community — Trifecta is a great apartment complex to live in Maintenance requests are fulfilled in a timely manner, parking is great, and staff are always willing to help. Not to mention, facilities are open 24 7.
|Recommended: YesConvenience — I like the location.
|Recommended: Yes
Love this place
We love you too! Thank you for the feedback! - Trifecta Management
|Recommended: Yes
Apartment 8203 — Nice place, price
WooHoo, look out! Thanks for the 5 stars and leaving us some feedback! - Trifecta Apartments
|Recommended: Yes
10 10 would recommend to a friend — I'd tell them that it's a nice community that cares about its residents.
The Trifecta Fam loves our residents and love being able to provide a nice, comfortable place to call home!! Thanks for your feedback! - Trifecta Management
|Recommended: Yes
Staff is helpful and very friendly — The staff helped me with every issue I've come across and have above and beyond every time.
We love having you in our community!! Thanks for the review and 4 stars!! - Trifecta Management
|Recommended: Yes
Best Management Staff In All of Louisville — Great facilities and amenities Friendly and personable management team that goes above and beyond to ensure resident satisfaction
Thank you for taking the time to let us know how we're doing! Our team takes great pride in our community and providing excellent customer service to all! Thank you for being an ah-mazing resident! - Trifecta Management
|Recommended: Yes
Plenty location, Great service — One of the great and plenty location for UK and great historical downtown and special one of the famous city for KY Derby.. Great and knowledgeable staff Specially thanks for ETHANE...
Thank you for your feedback and the 5 stars!! We agree, Ethan is the BEST! We're happy you enjoy calling Trifecta home! Trifecta Management
|Recommended: Yes
Good for the location — I would tell them the space itself is nice, the hallways and stairwells can be dirty but overall a nice place to live.
Thank you for the 5 stars and providing your feedback!! Trifecta Management
|Recommended: Yes
Amazing apartments — The staff is super amazing and helpful. They helped me even with what I thought was the dumbest questions ever. They always have a smile while helping too. Very clean building and amazing amenities
Hey Issac! Thanks for the awesome review! Our staff works hard to ensure our prospects and residents have a great experience living Trifecta! And, there is no such thing as a dumb question when you're deciding where to call home! We ♥ that you're enjoying calling Trifecta home!! - Trifecta Management